Let me get straight with this problem. Trolls exist and well in social media. Those are the people who are difficult to handle. So, if you have any social media page running, beware of those people. They can smite negative comments to your page quickly and make your page look really horrible for your audience if you respond to them in the wrong way. That's why you need a system of etiquette that will help you to handle those difficult followers in a positive way. And if you do that, you will be able to protect your brand reputation effectively on social media. Here are 5 most essential tips to deal with difficult followers in your social media page:

1. Don't Feed the Troll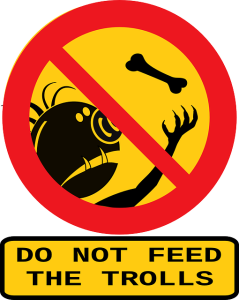 When you feed the troll with raging comments, you are initiating a flame war that will unlikely end in a short amount of time. Refrain from dealing with them in a furious way, trying to make your point by intimidating them. They will retaliate back to you with even more hatred in their comments. Just stay cool and stay calm. If they are trolling about something, just point out the right perspective for them. You don't even need to respond to them if they are not directly attacking your brand in their comments.